Information & Links
Please note that the links on this page may take you to external websites, which are out of our control & are presented for information purposes only.
Bus timetables
Both a short & full timetable for busses in the area are available from our bus timetable page.
Holy Trinity Church Bishop Sutton, weekly services are:
1st Sunday - Holy Communion service at 10:30am
2nd Sunday - Evensong service at 6:30pm
3rd Sunday - Holy Communion service at 8:30am
4th Sunday - Family Communion service at 10:30am
5th Sunday - Rotates within the Benefice check Parish Magazine
Everyone is very welcome.
A new local community website for Bath & North East Somerset
Streetlife, the local social network, has a simple aim: to help people make the most of where they live by connecting with their neighbours. The website provides a free and easy place to share local news, views, recommendations and resources, enabling people with busy routines or reduced mobility to keep in touch with their community. Conversations started on Streetlife have helped unite lost pets with owners, expose doorstep scammers, save threatened public services and recall local history. The site is also encouraging real-world friendships, with neighbours sharing gardening equipment, IT advice and dentist recommendations, organising craft groups, street parties and book clubs. Streetlife has just launched across Bath & North East Somerset, and everyone – residents, groups, local government representatives and businesses – is invited to share their knowledge, discuss the local issues they care about, and help build a stronger, better connected community.
Get involved! Sign up at www.streetlife.com with your postcode and email address. You'll automatically be linked to the people and conversations where you live. You can post messages, events, polls and pictures, and locals will be able to respond. You can customise your account so you control how often you receive local updates.
Fix My Street
With road damage quite prominent at the moment due to weather conditions and work being undertaken in our area you may wish to report any problems as you spot them.
Any problems can be reported to Fix My Street which will report issues onwards directly to the appropriate authority for action.
https://www.fixmystreet.com
Historic Maps of Bath and North East Somerset
Historic maps of Bath and North East Somerset are now freely available online for the first time, thanks to the Know Your Place West of England project, supported by the Heritage Lottery Fund. The project's website (www.kypwest.org.uk) displays modern and historic maps side by side, along with archive images and links, so users can explore their neighbourhood and see how it has transformed over time. The collaborative project is led by South Gloucestershire Council, working with key partners including Bath & North East Somerset Council, which runs Bath Record Office.
Outbuilding and Home Breaks in the Rural Area
In the winter months we tend to visit our sheds and outbuildings less and so we would like to take the opportunity to advise all to check your security of them and also check that everything is present and in order. You can also look at what you can improve to avoid becoming a victim of burglary yourself. Click here to download the flyer for more information.
Jobcentre Near Me
It's easier than ever to find local Jobcentre Plus offices, benefits and employment information. www.jobcentrenearme.com.
Dial-a-ride
Click Here for more information.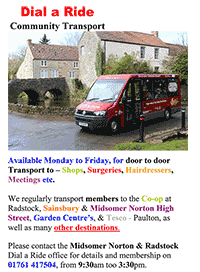 Recycling
Click Here for more information.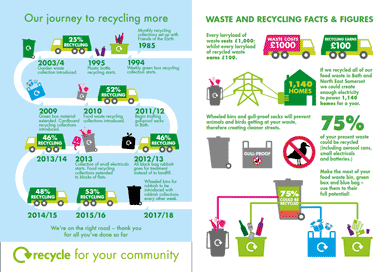 Truespeed
Truespeed was formed in 2013 (as Wansdyke Telecom CIC) to be a community company delivering superior telecom services - broadband, phone, TV and mobile - to customers in the hard-to-reach rural communities to the south and west of Bath. To both households and businesses. To all households and businesses that want it. It's an initiative with strong local backing from parish councils and local broadband champions and with expertise from specialists in the telecoms industry. They have the backing of the Duchy of Cornwall, a major landowner in the area, over whose property much of the core fibre network will be laid. Key to their success are the desires of people and businesses to take their services from a local community-owned supplier, where volunteers and local farmers assist in the building of the network, where local people provide the customer service, and where the community shares the profits. Click here for more details.
Mobile Library Service
From B&NES: The Mobile Library will be off the road for a little while longer. We are contacting mobile library customers to update them, and any items due back while the service is unavailable will be automatically renewed. Future visit dates for each of the routes will be added below once we know when the mobile will be back on the road. We apologise for the ongoing disruption to this service. See library locations and contacts for library branch opening times. View the routes here.
Small Electrical Recycling Collection
NEW small electrical recycling collection starts 18 February 2013. Have you got any small electrical times that are broken or you no longer want? Starting 18 February you can start recycling them from home as part of the weekly green box recycling collection service. These items must be able to fit in an average size plastic carrier bag and will be collected as part of the weekly green box recycling collection service. Any small electrical item that has a plug or uses batteries are suitable. For full details visit bathnes.gov.uk/electricalcollection.
Oil Club
The leading heating oil club in the UK with over 2,300 clubs and tens of thousands of members and membership is free. Their aim is simple – reduce the cost on our wallets and the environment as much as we can. By clubbing together, we can reduce heating oil costs, reduce heavy goods vehicle traffic through the village & reduce carbon exhausted into the local environment. The more members, the greater the saving. www.oil-club.co.uk.
Wellbeing Options
Wellbeing Options is a free resource providing local information to support you to live a full and independent life. By using the site, you'll find what you are looking for, whether that is a lunch or social club near you, local care providers, services to help you around the home or activities and wellbeing courses. This is complemented with links to other useful websites and resources. Most information is about services and organisations based in Bath & North East Somerset; however where there are none specifically in the area, they have included regional or national organisations. They also have an accompanying Facebook page. There is also more information here.
1 Big Database Bathnes
For the families in your parish, B&NES have 1 Big Database Bathnes, offering free information for families about local clubs, events, activities, registered childcare, baby and toddler groups and much more. There is also more information here.
Rainbow Resource
Rainbow Resource is for families with a child or young person with a disability or additional need. They have an accompanying Facebook page. There is also more information here.
Frack Free Chew Valley
Frack Free Chew Valley is a group of citizens who are concerned about the possibility of unconventional gas exploration and development in the beautiful Chew Valley in Somerset, England. The group aims to raise awareness in the Chew Valley about unconventional gas, including coalbed methane, shale gas and hydraulic fracturing, and the impacts they may have on our communities. We want citizens, their representatives, businesses and land owners to have access to open, reliable and credible information about all aspects of the issues and how they may impact us.
Winter Weather
Click Here for an information leaflet (pdf).
B&NES Flood and Weather Warnings
Click Here for up to date information on flood and weather warnings.
Click Here for information on how to report flooding.
Click Here for information on watercourse ownership & responsibilities.
Senior Siren
The Senior Siren is a free, bi-monthly magazine produced by the Senior Citizen Liaison Team. It contains lifestyle articles, games & puzzles, features on older adulthood & interviews with interesting people from all walks of life. Click Here to see the latest edition.
Silver Training
Silver Training is home computer tuition for people who want a tutor to come to them, learn on their own computer and receive flexible tuition to suit their needs. They appoint experienced tutors who are knowledgeable on PCs and Apple Macs. Silver Training can help with any issue and are experts at training beginners. Their tutors are all CRB checked and covered by the relevant insurances and liabilities.
Home Safety for Seniors
The Most Common In-Home Injuries for Seniors and How to Prevent Them
Fire Safety for Elders with Special Health Needs
Preparing Your Home for a Loved One with Alzheimer's: A Caregiver's Guide
44 Crime prevention tips for seniors
Handicap Accessible Modifications That Won't Turn Off Future Homebuyers
How To Garden Safely When You're A Senior
Stairlifts Reviews
Stairlifts Reviews is the definitive guide to stair safety for a person with dementia.
A Senior's Guide to Healthy Eating
A Senior's Guide to Healthy Eating.
If you want to include information on a service or event in the parish, please email the details to The Clerk.